Norfolk Gazelles 'Big Stampede'
Norfolk Gazelles 'Big Stampede' - 24 October 2021
After the success of the inaugural 2019 event, we are delighted to announce the return of the Norfolk Gazelles Championship Relay in October 2021. This year it's now bigger and better with an additional individual race for adults and two new children's races. Welcome to the Norfolk Gazelles 'Big Stampede'!
All races will be chip timed by ChipTimingUK and every runner will end up with an individual 2k or 5k chip time (relay competitors will have both an individual 5k time and total time for each team).
THE BIG STAMPEDE RACES!
Enter here: https://www.active.com/norwich-norfolk/running/norfolk-gazelles-big-stampede-2021
(PLEASE NOTE: For all races, under 18s can't register themselves via active .com – an adult needs to log into their own active account and "Register for someone else")
Love running as a team? Run as a herd of four in the Championship Relay!
Four 5k legs around the Savannah (aka The Showground):
Leg 1 - Dorcas Gazelles, Leg 2 - Mountain Gazelles, Leg 3 - Chinkara Gazelles, Leg 4 - Impala Gazelles
Ages 11+
Race starts from 09:45 (see more information below)
UKA Affiliated - £13 each (£52/team)
UKA Unaffiliated - £15 each (£60/team)
IMPORTANT:
Team captains need to pay for their team when entering.
Affiliated teams must have ALL members affiliated – otherwise they will be classified as an unaffiliated team.
Where teams have competitors in different age categories, they will be categorised as the 'least advantageous' group (e.g. 2x Vet and 2x Open will be classified as Open).
Want to run solo? Then we have the Individual 5k Dash!
Ages 11+
Race starts from 09:45
UKA Affiliated - £13 each
UKA Unaffiliated - £15 each
Want to bring the kids?
- Fawns 2k Trot – ages 4-12 (kids accompanied by an adult)
- Calves 2k Canter – ages 4-12 (kids race unaccompanied)
Races start from 09:00
£5 (accompanying adult no charge)
Enter all races here via active.com: https://www.active.com/norwich-norfolk/running/norfolk-gazelles-big-stampede-2021
Prizes:
Across the Individual 5k dash and the Championship Relay, there will be a trophy and £100 for the best age graded individual!
For the relay:
Cash prize of £200 for the best age graded team!
Trophies: 1st male and female teams in each of the following categories
Junior: 11-17
Senior: Open 18-39
Vets: 40+
Super Vets: 60+
Junior Mixed Team: At least 1 female & all 11-17
Open Mixed Team: At least 1 female & 18-39 (+ mixed age categories)
Vet Mixed Team: At least 1 female & all 40+
Super Vet Mixed Team: At least 1 female & all 60+
In addition to this, the individual fastest male and individual fastest female overall will receive a trophy.
For the Individual 5k Dash:
Trophies: 1st male and female in each of the following categories (no team events):
Junior: 11-17
Senior: 18-39
Vets: 40-44, 45-49, 50-54, 55-59, 60-69, 70+
For the 2k Junior Runs:
Trophies: 1st male and female in each of the following categories:
About the route:
The 2k route will be one lap around the Showground
The 5k routes will be three laps around the Showground
IMPORTANT COVID SAFETY INFORMATION:
UKA Licence No: TBC
Course Measurement Certificate No: TBC
Covid Symptoms:
If you have any Covid-19 symptoms YOU MUST NOT ATTEND.
These are currently recognised as:
• a high temperature
• a new, continuous cough
• a loss of, or change to, their sense of smell or taste
Refreshments and Water:
Refreshments and food will be available to purchase on the day so please bring some money or your cards. Water will be provided at the end of your race/leg. If you can bring your own bottles, we will happily fill these up to reduce the waste on our recyclable cups.
Venue & Car Parking:
Race HQ: Race HQ will be at the Norfolk Showground, Dereham Road, New Costessey, Norwich NR5 0TT.
Car parking: Ample car parking is available for all participants at the Showground. The entrance will be clearly signposted and will be off the Dunham Road which is en-route the Norwich Family Golf Centre. Please only park where directed and only leave the car park as instructed. Disabled parking is available close to Race HQ; if you need to use this, please advise the marshal who will direct you accordingly.
Chip Timing:
We are using ChipTimingUK for these races and every individual will receive a chip and bib for the race. Please ensure that this is securely fastened to the front of your vest and make sure it is clearly visible. This is very important. Please complete the medical and emergency contact details on the back of your number. Numbers will be picked up from Race HQ on the day.
Changing & baggage:
We will have informal areas for baggage and changing.
Toilets:
Toilets are available on site and will be manned to ensure cleanliness is maintained. Please do not use other areas for a "wild wee" anywhere else at the showground!
Other FAQs:
Is the race officially timed?
Yes! Official times will be provided by ChipTimingUK and will count for your new PB! These will be posted on social media and our website.
What is the terrain?
Fast and flat, along the Showground walkways
How old do I have to be to run?
4 years old for the junior races
11 years old for the senior races
Is there a cut-off time?
No!
Is there a medal for finishers?
Yes! Medals are provided for everyone who finishes the race. These will be available for collection after the race on the day.
What time does the race start?
The Junior races will start from 09:00
The Senior races will start from 09:45
What is the date of the race?
The event takes place on Sunday 24 October 2021
Can I run with headphones?
No headphones will be permitted on this race (this includes bone conducting headphones). This is an England Athletic rule, anyone wearing headphones will be disqualified.
How will I receive my prize?
Medals will be available on the day. As things stand, we hope to distribute trophies out on the day. Cash prizes being paid via PayPal to the email address for which they entered.
Who is the medical support provider?
Support is provided by MedPTS
I can't run. Can I get a refund?
We would encourage you to transfer your spot wherever possible. However, if you can't take part, refunds are available until 08:00 17 October 2021, minus a £5 admin fee per entrant. Other T&Cs in the link below.
Contacts:
If we can be of any assistance whatsoever, please contact:
Ceri Theobald (Joint Race Director) 07967 059220
David Murrell (Joint Race Director) 07528 0472045
Or email racedirector@norfolkgazelles.co.uk
Finally, we really hope you enjoy the races on the day. If you are keen to progress as a runner and want to get involved in one of the friendliest clubs catering for all abilities with excellent coaching and facilities please drop us a line.
Link to PDF of race terms: HERE
Thanks to all those who attended our first ever Championship Relay in 2019, on a beautiful crisp autumn day. Below are the team results: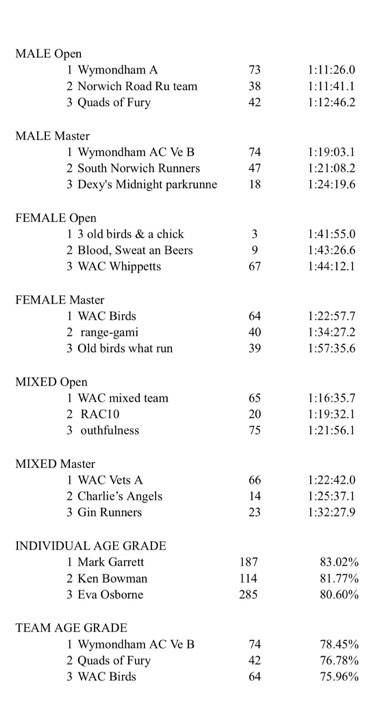 You can download the team results as a spreadsheet HERE, and overall results HERE.
.